Q&A with Elena Paunova
Welcome to our ongoing Q&A series, where we're introducing you to some of the designers behind the work you see at Visualizing.org. Join the conversation in the comments below!
Elena Paunova is an information designer living in New York City. Her project won our recent UN Global Pulse Visualization Challenge.
---
V: How and when did you get started in data visualization?
EP: I got started about two years ago, when I was a junior at Parsons The New School for Design, pursuing a BFA in Communication Design. I took a class in Information Design, which quite unexpectedly exposed me to a much deeper problem solving side of design. All of a sudden I realized it had the potential to shine light on complex data sets and to resolve social challenges and issues. It even turned out capable of translating other subjects, such as science and history, into accessible and logical visual sequences and systems. Long story short, information design completely blurred the previously solid lines among the academic subjects I had studied or I was interested in, merging them into a network of knowledge which could be accessed and applied towards virtually any problem. This was the turning point for me.
I had the pleasure to be introduced to the subject by information designer and Professor Julia Wargaski, a teacher who seeks for and encourages every possible potential in her students. Her teaching enabled me to discover a new interest in conducting research and analysis, stepping out of my professional comfort zone, which I now think is the key to solving data-related design problems. The seriousness and dedication with which she approached the subject provoked me to do likewise, to continue to study, and ultimately to pursue information design as an expertise.
V: Tell us about a data viz project you're especially proud of.
EP: Proud probably would not be the exact word here, but a project I value highly is a massive data visualization study on religion that I was working on until recently for about a year and half. The result is a book, published on demand in May, named "Has God Been Divided?" which relies on unbiased visual and verbal comparisons to reveal the beliefs of over a hundred million Christians in the United States, belonging to fifty-six different denominations.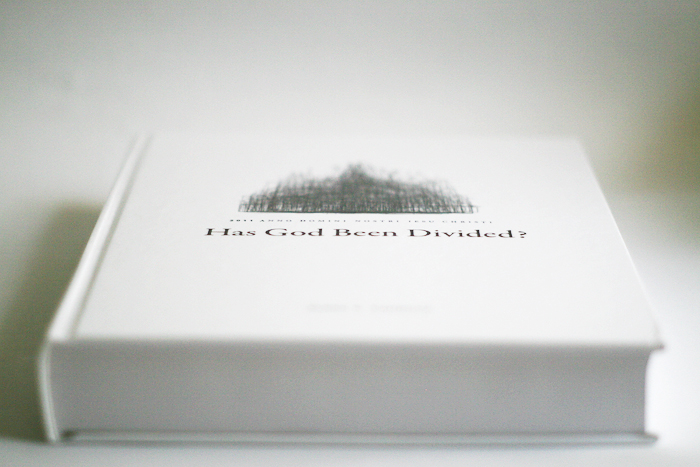 It is a research and visualization project involving very large data sets, which deals with both small (0 – 5000) and huge (0 – 70 million) ranges. It was quite challenging to accommodate the extremes in the data sets of individual denominations into cohesive systems which, when applied to entire chapters, enabled comparisons among the denominations. It took more than six months of analysis, building and rebuilding of systems and trials and errors before arriving at a solution offering not only a low level of data distortion, but also testing well with the majority of people. It is one of the most rewarding projects I have completed to date, precisely due to these challenges and the amount of experience I obtained during the process.
In terms of content, the project seeks to find a new way of approaching religion. It recognizes religion as one of the most complicated and personal subjects, as well as an inseparable part of society. However, it also recognizes it as one of the subjects about which we communicate the least and, when we do, it is usually in disagreement or exclusively within the comfort of our likeminded peers. This lack of conversation sometimes results in preconceptions that drive the decisions we make both personally and as a society in a negative direction. The project proposes using a more objective format – data visualization and systematization – to start learning about each other, not so much because we are interested in religion, but because we are interested in the relationships we form with the people around us. It is also possible that in learning about others, we may learn about ourselves and find a safe way to cross the no man's land.
V: What's the most exciting development that's happened in the field in the past year?
EP: Apart from the advancement of web standards and libraries conducive to data visualization, the most exciting development is that in general it got easier to explain what an information designer does.
This is largely due to the wide penetration of infographics visualizing an amazing variety of issues into the public domain. Because of their compelling presentation, the general public is becoming more accustomed to the idea of data-related design, learning how to read visual systems and how to engage in unanticipated subjects. This not only develops the field, but also society as a whole as it transfers industry-specific information to the public, thereby influencing the decision making process. The potential great news here is that as infographic design evolves and continues to prove beneficial, it will bring the idea of complex data visualizations closer to everyone. Medicine and science for instance have a pressing need for more accessible data representation and hopefully there will continue to be steps taken in this direction.
V: Where do you see data visualization heading in the next couple of years?
EP: It is quite an interesting time to make predictions as we have the advancement of HTML5, CSS3, Java Script and Flash libraries which make the creation of data visualizations more accessible, especially to non-coders, and allow them to become more widespread.
As one of the most important qualities of information design remains its ability to influence and ease decision-making, the biggest challenge in the next couple of years will be using these tools to build systems that serve the data sets with which we are presented even more responsibly. Overall, people are inclined to trust what they see in data visualization, since it is based on statistics or an otherwise objective source. But as the industry and technology pick up, perhaps our utmost challenge will be developing the ethics of information design accordingly.
In relation to this, I think that the educational system should also develop. More professionals will seek Masters and PhD programs designed to enable the pursuit of information design and data visualization, both as its own discipline and as part of the humanities, programming, and science. Dedicated classes should also be implemented in more Bachelor curriculums, as more students become interested in the subject.
V: What's one visualization or data set you've always wanted to tackle but haven't yet had the time?
EP: I have an inclination towards very raw data sets or projects concerned with a historical or other progression. These are usually quite demanding and therefore I put many ideas on the "have not had the time yet" list. If I have to point out one, it would probably have to do with medicine since there are many things I find interesting there, for example mapping out diseases by classification, physical or psychological, starting with those for which there is no cure yet and moving backwards, perhaps pairing every condition to a network of susceptibility and resistance towards medications, other conditions, and triggers. I am not sure how beneficial or possible this is yet, but it bugs me and I would personally like to know.